Conversations
An interview with Google Living Room researcher Supriya Gokarn
Insights on gearing up a hardware product for success before it hits the market
Words and visuals by Delaney Gibbons
---
Let's be real: Researchers make cool friends. With their endless supply of discoveries, anecdotes, and observations, we would listen to them talk all day if we could. This month, we got to indulge our curiosities by chatting with Google Living Room's Supriya Gokarn. Starbucks in hand and snowboots on her feet, the marketing manager joined us between her week of research with our consulting team and her flight back to warmer environs.
Design- and research-loving friends from the Chicago research & innovation community joined us for this People Nerds event, turning our usual in-office happy hour into a Q&A session with Supriya being interviewed by dscout's head of consulting Dinesh Goburdhun. She shared her take on being a researcher and product marketing manager on Google Living Room, one of the most innovative product platforms in Silicon Valley, and explained how she uses our research platform as part of her work there.
Citing a natural tendency to observe others and a childhood spent immersed in a variety of cultures, Supriya said she proudly self-identifies as a People Nerd, telling her audience, "Figuring people out is part of life. It feels very natural to me." Following are a few notes from our time with her.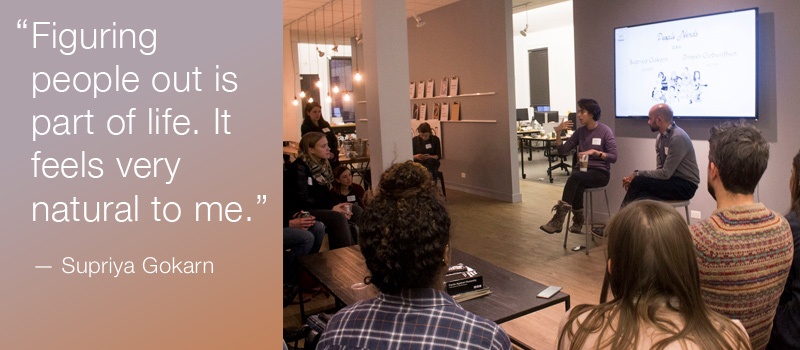 Supriya gathers insights and measurements to inform products like Google Home, Chromecast, and Google Wi-Fi. She noted that her team has learned the importance of gathering usage data as early as possible in the product lifecycle and about asking questions at all of the points of the design and product development process. She credited dscout's research platform with enabling this effort, dramatically influencing the way they conduct research, and emboldening them to try more non-standard research methods.
"Calling dscout a 'non-standard way' of doing research is a complete compliment," she told the audience. "You can literally see the difference. Consumers are delighted by the way our latest devices work, and it's incredibly powerful to share this first-hand with our product and engineering teams."
With dscout, Supriya has been able to strike a balance between the quantitative and the qualitative. She especially values the scout videos, where she can see people engaging with products and analyze their audio transcriptions. "It has been fantastic and eye-opening across all teams," she said. Incorporating more storytelling into their data and research has led to a much better understanding of their users, and thus, better products.
Responding to a question from the audience, Supriya reflected on her own growth as a researcher. On a personal level, she said, time and experience has revealed to her that organizing and executing research comes more naturally to her than working face-to-face with participants. "I'm best in the back room, making things happen," she said. On the professional side, Google has taught her the importance of storytelling. Showing data on a slide is "too easy," she said. "You need to build a context about why something matters. Make it crisp, and tell a story with it."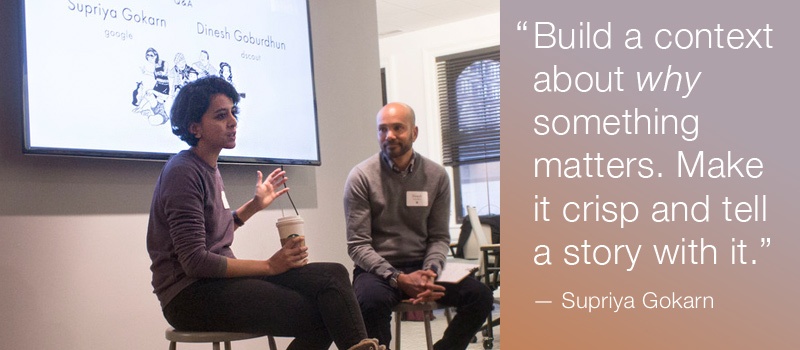 One of the things Supriya enjoys most about working at Google is the opportunity to affect people's lives in a very fundamental way. She notes that Google's UX, marketing, engineering, and product teams share a commitment to connecting the dots among usage data, and dscout helps them do this is by capturing real-time user videos, stories and feedback. That in-the-moment qualitative data helps explain the quantitative data they've collected, and "when user understanding is at the base of a hardware product well before it hits the market, it has a better chance for success," she said.
Delaney Gibbons is dscout's marketing designer and illustrator of People Nerd portraits. Any day that involves drawing, coffee, and dogs, she'll consider a really good day.
Subscribe To People Nerds
A weekly roundup of interviews, pro tips and original research designed for people who are interested in people