Ideas
Make Anyone Into a Fantastic Workshop Moderator (With this Simple Playbook)
Want to build a more collaborative research culture? Run more workshops. Want to make running workshops easier? Build a playbook. 
Words by Nikki Anderson, Visuals by Emma McKhann
---
One of the most important skills you can possess as a user researcher is to be an excellent moderator/facilitator.
This talent enables you to succeed in several areas: moderating interviews, helping others run meetings, compellingly presenting your findings, and running workshops.
Workshops are to user researchers what scalpels are to doctors. Maybe that is a bit harsh of a metaphor, but it's true. We can't get under the surface of our research without workshops. They are an integral part of the user research process and bring many valuable moments to the researcher and team.
The other day I was reflecting back on the workshops I had run in the past six months. I was surprised when I realized there were only a handful. Usually, I consistently run workshops every month. However, recently, I was not doing a great job at scheduling these workshops. The realization sparked me to start thinking about why I wasn't running as many workshops.
Upon reflection, I recognized a few reasons why I was struggling to run workshops:
I am the only researcher at the company, so my time is stretched
I don't have many other moderators to help me or bounce ideas off of
The team doesn't see the immediate value of workshops (mainly because I haven't been showing them)
I was doing something I really disliked: working in a silo. So I took on the work of identifying patterns and synthesizing research by myself. This led to the two dreaded Bs: burnout and bias.
I pondered how to solve an issue. The obvious answer to me was to run more workshops and make the team see the value in them. This method, however, was less realistic due to the simultaneous number of projects I was running. I decided on something else. I was going to create a user research workshop playbook.
---
---
What is a workshop playbook?
A workshop playbook is a manual where people can go to find the best workshop for the goal they want to accomplish. It is a single place where people could find helpful information on how to get people together and run an effective workshop.
How to create a workshop playbook
There are many different types of playbooks out there already, but I decided against using one of those. As I looked through the other playbooks, they were high-level and aimed at educating people, in general, about workshops.
I had another problem I wanted to solve: I wanted other team members to get inspired to run more workshops—and I had to create a playbook that addressed the issues we had.
I went through several different phases while creating the playbook. I split it into three phases: brainstorming, creation, and testing.
A workshop playbook is a manual where people can go to find the best workshop for the goal they want to accomplish by getting a group of people together.
Nikki Anderson
Brainstorming:
Define the goal. What is it you want to achieve with this playbook? What is the problem you are trying to solve?
Specify the "what." What is this playbook going to be like? What will people use it for?
Outline the pros/cons: What are the possible side effects of the playbook? What are you hoping it will positively impact? What are some potentially negative consequences?
Name success metrics: How will you determine whether or not the playbook is successful in solving the original problem?
Creation:
Choose which workshops to include. What workshops do you want to include in your playbook? I recommend a few workshops per expected outcome (e.g. affinity mapping and empathy mapping)
Determine the necessary information. What information is needed under each workshop to make it as easy as possible for someone to understand? I recommend a few different points in our example below.
Determine how to organize the content. How do you want the material to be arranged? By outcome, goal, or difficulty?
Testing:
Try it out. Use your playbook to host your own workshops. It will give you an indication of what is missing or unclear.
Get your team to try it. When designing this playbook, I would love if anyone in the company could pick it up and use it. However, I aim for the product team to be able to use it first, and then go from there
Introduce it to the company. I plan to present this playbook to the rest of the company at an optional lunch and learn. First, I will test it, then the UX team, then the product team so I can get the feedback. Once I feel comfortable, I will set it free into the hands of the entire company.
What does ours look like?
When I first started this project, I searched the internet quite intensely for examples of playbooks. I've found one of the easiest ways to create something new is by following examples. Below, you will find our step-by-step process of creating a workshop playbook with some concrete examples.
Brainstorming:
Goals:
Helps to find a workshop method that gets the person to an expected outcome
Gives an understanding of what different workshops can be used to achieve
Provides information on who could help them moderate/facilitate the workshop
What:
Find the best workshop for a problem you are facing
Find who can help you facilitate and moderate a workshop
A way for people to learn how to use workshops to their advantage
Easy-to-understand language (no jargon)
We start with the product team and then move across departments
Pros:
Facilitate more planning and brainstorming
Help with cross-functional alignment by allowing multiple departments to come together
More workshops and planning together
Cons:
Not a magic book that solves problems
Not a book on how to facilitate a workshop: it will NOT teach people how to run a workshop
People may not use it because it is not a simple solution
Success metrics:
A higher number of workshops held
An increase in cross-departmental brainstorming
Creation:
The following is a specific example of a workshop we have chosen to put into our playbook, as well as the information we decided would be essential to include. We organize our playbook by goal (e.g. customer-centricity and difficulty within that section).
---
Workshop:

Empathy Mapping
Definition and goal:
An empathy mapping workshop allows you to articulate what you currently know (or assume) about our users. It is especially helpful if used in conjunction with user research.
Ultimately, this workshop enables team members to foster a sense of empathy for users by calling out what they are feeling, thinking, seeing, and doing. It also shows the team where the biggest pain points lie and can start a process of how to solve these frustrations.
Expected outcome:
A map that categorizes and groups user needs
More in-depth knowledge of customer pain points
A greater sense of understanding and empathy for the customer
The number of people:
3-6 people
Timing:
Prep time: 15 minutes
Workshop time: 60 minutes
Tidying up: 15 minutes
Total time: 90 minutes
Difficulty level:
Medium
Materials needed:
Whiteboard
Markers
Post-its
Paper
Timer
How to run the workshop:
Pre-workshop homework:
Select 1-2 of our personas to explore during the session. The team will use these personas to get into the customer's mindset
Include a link to the personas you've selected and any user research or data you have for everyone to review before the session
Prep (15 minutes):
Bring all the materials to the workshop and make sure everyone has several empathy map printouts (see resources)
Print out the personas and relevant data to hang in the room for reference points
Make sure there are remote options for those who are unable to be present in the room (e.g. Zoom conference link, virtual Miro board)
Workshop (60 minutes):
Set the stage (5 minutes):
Explain what the next hour will be about and what the goal of the workshop is.
Show the group the empathy map they will be filling out.
Finally, present the persona they will be focusing on for the next hour and immerse the group in that persona's way of thinking, feeling, and seeing the world. Explain whether the empathy map is for a current product/service or a new product or service.
Give an example (5 minutes):
To emphasize the importance of getting into character, take the group through a role-playing exercise separate from the product. This helps you walk through the empathy map as a team, so everyone knows what they should be aiming for.
For example, "a 46-year-old mom who uses a food delivery service to make Friday dinners fun for the family." With this persona in mind, run through the empathy map as a group. What is that persona:
Thinking and feeling about their anxieties or goals? (e.g. "Wants an easy and fun option for dinner. Wants to keep the family entertained. Needs something fast.")
Hearing from their friends and neighbors while using the delivery service? (e.g. "I've ordered from this restaurant before, and it was horribly slow. They forgot half of our order.")
Seeing while using the food delivery service? (e.g. "Searching through different restaurants in the area. Looking at menus and ratings. Wondering how reliable the information is.")
Saying and doing to oneself or others while using the product? (e.g. "Asking the family what type of cuisine they want for dinner.")
Experiencing as a pain point or fear when using our product? (e.g. "Is annoyed when a restaurant doesn't deliver on time, or the quality of the food is poor despite good ratings. Isn't able to easily find a good restaurant.")
Experiencing as value when using our product? (e.g. "Everything was so easy, and the family is happy. I don't have to cook or clean up, but we still had a great time together.")
Complete the empathy maps (15 minutes):
Divide the group into pairs or trios. Give them 15 minutes to fill out the empathy map.
Remind the groups to pay special attention to pain points since one of the goals of empathy mapping is to highlight these issues.
Share the empathy maps (30 minutes):
Each group presents their empathy map and explains what insights and gaps they have found, as well as what assumptions need to be validated. Encourage the rest of the groups to ask questions or raise discussion topics.
These topics can be placed in a 'parking lot' and discussed later.
Next steps (5 minutes):
Discuss as a group what you learned from the exercise, especially talking about the assumptions that will need to be validated or the gaps in knowledge which were found.
Brainstorm how these findings could be applied to future projects. Assign a follow-up meeting if necessary, as well as any outstanding tasks, owners, and due dates.
PRO TIP: Feel free to book the workshop for 90 minutes and add padding wherever you think there may need extra time to explain—and don't forget to take photos!

Who to contact as a moderator/facilitator:
Nikki Anderson
Resource(s):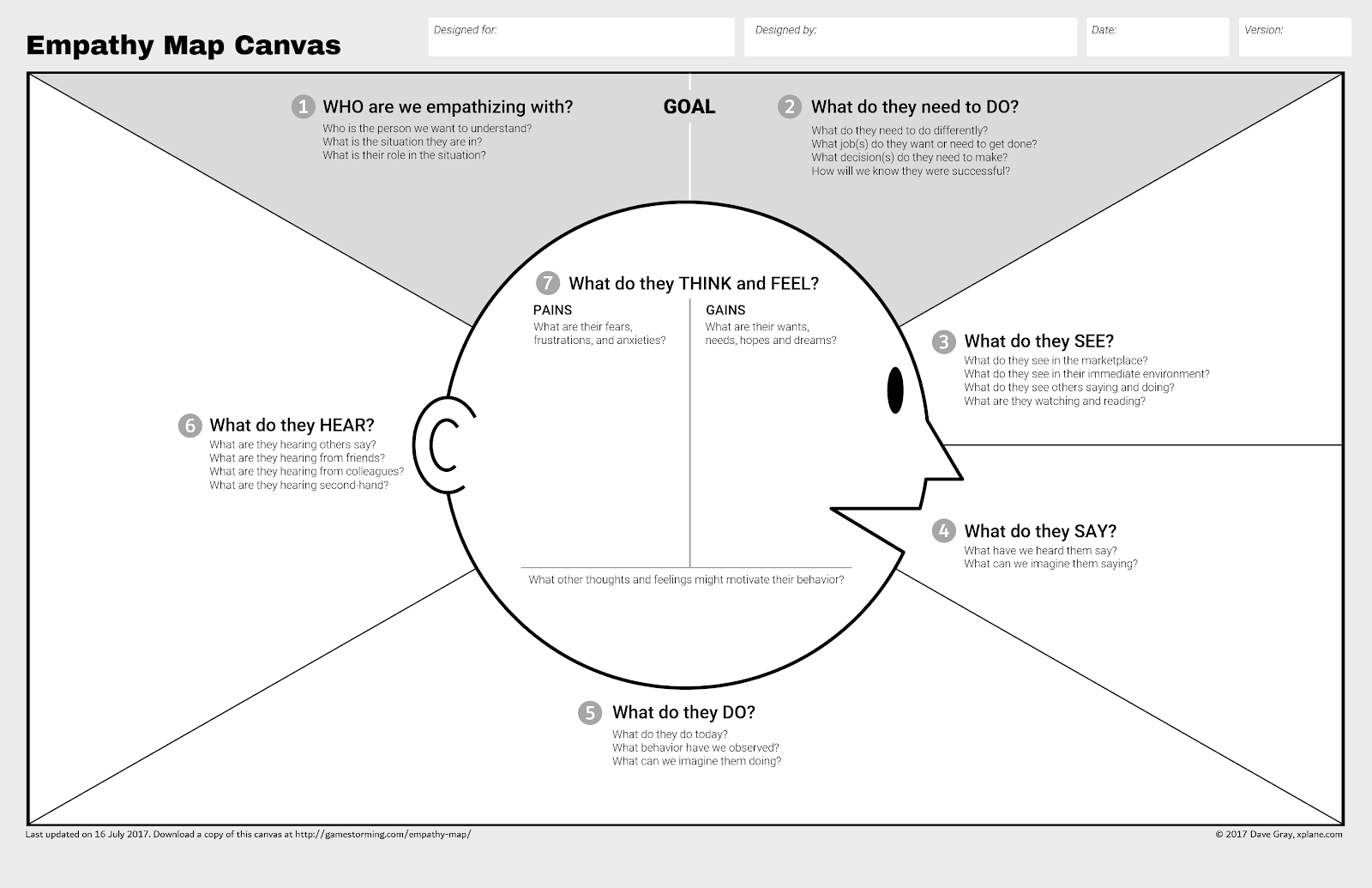 Subscribe To People Nerds
A weekly roundup of interviews, pro tips and original research designed for people who are interested in people